ACDelco Spark Plug Rebate 2016
Once again RockAuto and ACDelco have united to give us a great rebate starting with the beginning of 2016. The ACDelco Spark Plug Rebate is available for the entire year for all the spark plugs listed below:
Professional Iridium ($2/plug)
Professional Double Platinum ($1.50/plug)
Rapidfire Performance Single Platinum($1.00/plug)
Professional Conventional ($.50/plug)
Guidelines:
What to Do:
This rebate is only valid on Rapidfire or professional spark plugs ordered and installed along this year.
The rebate deal is valid only for ACDelco Rapidfire Perforamnce Single Platinum, ACDelco Professional Double Platinum, ACDelco Professional Iridium, ACDelco Professional Double Platinum.
All info must be completed properly and legibly.
If ordered from a particular retailer, enclose UPC blocks from the qualifying ACDelco spark plug boxes.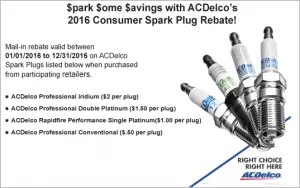 Mail all items to:
ACDelco Spark Plug
Rebate Offer Number 6600 9
PO Box 6970
Mesa, AZ 85216